Reading articles and books by various Pastors and Christian leaders, I am amazed to find that there is a vast difference in understanding and belief in what the fear of the Lord really is about. When defining the fear of the Lord, some say that the fear of the Lord is a reverential fear or Awe of the Lord. They say that it is not a negative fear in the same sense as in being terrified of judgment but a deep respect and reverence for God. On the other hand, a few writers equate the fear of the Lord with being terrified of the Lord so as looking toward his judgements.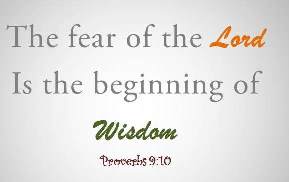 I am not going to name anyone in this but I have thoroughly looked at this subject and read up on books and articles that deal widely with this subject. Going forward, I must present my personal view that the body of Christ is getting weaker due to the fact that it has been fed a diet of easy peasy (and greasy at times) Christianity.
There seems to be no real sense of accountability when Christians can commit adultery, fornicate, delve into alcoholism, drugs and all manner of loose living without showing any real repentance or remorse. As an example, divorce is growing in the Western church.
So again, in my personal view, when the Fear of the Lord is defined correctly, it will provide a basic framework and boundary for Christians to live with integrity and honor. So what is the Fear of the Lord?
First, the general teaching that the fear of the Lord is a positive fear and not negative.
This definition is used to differentiate between the negative fear of being "terrified" and the positive fear of being "in awe" of God. For example, look at the following 2 verses:
Genesis 15:1 "After these things the word of the Lord came unto Abram in a vision, saying, Fear not, Abram: I am thy shield, and thy exceeding great reward."
Genesis 22:12 "And he said, Lay not thine hand upon the lad, neither do thou any thing unto him: for now I know that thou fearest God, seeing thou hast not withheld thy son, thine only son from me."
In Genesis 15:1, God tells Abraham not to fear. This is known as Negative Fear. But in Genesis 22:12, he commends Abraham for fearing Him. This is known as Positive Fear. They say that negative fear is fearing man and things whilst positive fear is to fear the Lord which has no real element of punishment. To promote the teaching that the fear of the Lord has no real element of punishment, exponents say that Positive Fear of God is to deeply respect and honor God and to be in awe of God as in respect of a person's high office but without an element of punishment because Jesus already took the wrath of God upon Himself at the cross. This has become a very popular view because it sounds right in relation to the work of Jesus on the cross.
I believe that this has an element of error and is dangerous because it can lead to an erroneous belief that God loves us so much that punishment is hardly forthcoming. In turn, an unconscious acceptance of easy Christianity can result.
My understanding of this issue.
I do not believe that God is promoting a Negative and Positive Fear in relation to the threat or no threat of punishment but he promotes this in relation to our focus. We are not to fear man or things because they are simply not the highest form of authority. God is the highest form of authority and therefore deserves our highest respect and reverence (This is stating a difficult theological issue in as simple way as possible).
Secondly, the fear of the Lord has an element of punishment. Why do I say this?
1. We will be disciplined (chastened and sourged) as children of God.
Hebrews 12:5-9
5 And ye have forgotten the exhortation which speaketh unto you as unto children, My son, despise not thou the chastening of the Lord, nor faint when thou art rebuked of him: 6 For whom the Lord loveth he chasteneth, and scourgeth every son whom he receiveth. 7 If ye endure chastening, God dealeth with you as with sons; for what son is he whom the father chasteneth not? 8 But if ye be without chastisement, whereof all are partakers, then are ye bastards, and not sons. 9 Furthermore we have had fathers of our flesh which corrected us, and we gave them reverence: shall we not much rather be in subjection unto the Father of spirits, and live?
The word "scourgeth" is the Greek word "mastigoo" which means "to flog". Mmm…Let's look at verse 6 again…"For whom the Lord loveth, he chasteneth and scourgeth (FLOGGETH) every son whom He receiveth". This seriously sounds like some element of punishment. This Greek word is also used in John 19:1 to describe the sufferings of Jesus by scourging.
John 19:1 "Then Pilate therefore took Jesus, and scourged him."
Before anyone thinks that I am a weirdo that looks forward to punishment, I completely deny this. I am normal, human and completely sane. Like anyone else, I don't welcome scourging, chastening or anything remotely like that. But this is what we need to realize. We are children of God's family and as our Father, he will discipline us and possibly allow us to go through some discipline/chastening to correct our character so that we will live in a way that brings Him glory.
I am sitting down in my study and writing this with some memories of some of the things that God had allowed me to experience in my twenty plus years of serving Him and being a child of God. As I look back at the heartaches, pain and suffering along with the joys, the victories and deliverances, I can only say, "Glory to God in the highest, for the great things He has done".
I have gone through some seasons of chastening and came out a better person for it. Do I really fear the Lord?
Oh yes…I really fear the Lord and I am not looking forward to another time of discipline/chastening.