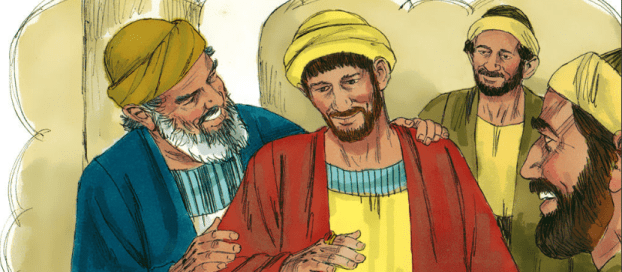 When we talk about a community, we mean, a group of people and families living together or doing things together. They normally have something in common.
Examples of a community:
Soccer Team – Play soccer together
Same Department at Work – work mates for hours daily
Same Street – same geographic location
Extended Family – pride of family name, traditions and honor
Racial Grouping – same language, skin color, cultures, family birthplace, etc
Hobby Group – Jogging group, exercise group, school committee, drinking or partying group
There are so many ways that people form communities. But they normally have a common goal, like, hobby, etc.
The Church is also a community of people – We are made up of so many different kinds of races, cultures and families but we have something in common – We are committed Christians and Jesus is our Savior and Lord.
Membership
Can't be just attending church to be in this community. You must truly have given your whole life to Jesus and are following His will for your life.
Bible calls our Community – Ecclesia – Literally translated as "A gathering".
When we were not followers of Jesus, we were in so many communities and followed whatever they did, we followed. The talking, behaviour, etc.
But now as part of the Church Community, we are called to have holy relationships. The church relationships are not like the world relationships. It is a spiritual and anointed relationship.
For my thoughts are not your thoughts, neither are your ways my ways, saith the LORD
(Isaiah 55:8)
So the way of God is different from the way of the world so the way we relate to each other as God's people are different. We have to learn a whole new way of relating to others in the church. From the bible, we can understand some of this from the words "One Another" in the New Testament. These two words are used in many places to describe the kind of relationships we should have in the church with one another.
1. Love one another
John 13:34-35 A new commandment I give to you, that you love one another; as I have loved you, that you also love one another. By this all will know that you are My disciples, if you have love for one another."
Jesus said a new commandment. Why? This commandment is very similar to the commandment in Leviticus 19:18 of "Love your neighbour as you love yourself". The NEW is that Jesus shows his own personal sacrifice as the model for loving others.
A church should be filled with love and caring for each other. We need to embrace each other with love and caring. When one falls, we pick them up. Love is not about talking and gossiping about each other.
Romans 15:1 We then that are strong ought to bear the infirmities of the weak, and not to please ourselves. Let every one of us please his neighbour for his good (Romans 15:1)
Not Based on race or class – "I like Fijians because I'm Fijian or I like Indians because I'm Indian". NO… I love people because Jesus loved me and we are brought together by the blood of Jesus.
Galatians 6:2 – Bear one another's burdens, and so fulfill the law of Christ.
Your burden is my burden so I will do all that I can to help you. Example – Good Samaritan
Also forgive one another – Colossians 3:13
2. Greet one another with a holy kiss –
1 Corinthians 16:20 – All the brothers here send you greetings. Greet one another with a holy kiss. Galatians 5:13 – You, my brothers, were called to be free. But do not use your freedom to indulge the sinful nature; rather, serve one another in love.
We are serving a holy God and so we show our God to the world by walking in holiness within our hearts and in the way we relate to one another. Men look at women as sisters in Jesus and women looking at men as brothers in Jesus. We don't look at each other with lust or in a dirty way.
1 Peter 2:9 – But you are a chosen generation, a royal priesthood, a holy nation, His own special people, that you may proclaim the praises of Him who called you out of darkness into His marvelous light (Show the Character of our God
The way we dress also is important. We need to dress moderately and not show off excessive parts of our bodies. We are people of God, not people from Hollywood or Bollywood.
3. Wash one another's feet.
John 13:14 – Now that I, your Lord and Teacher, have washed your feet, you also should wash one another's feet.
Part of building relationships in the church is to serve others, even if we have to lower ourselves. In this story, Jesus took off his garments and took a basin and a towel and washed his disciples' feet.
In the same manner, there are times we need to go places that are not so clean and do things that is humbling to help a brother or sister in need.
4. Encourage One Another
1 Thessalonians 5:11 – Therefore encourage one another and build each other up, just as in fact you are doing.
Our culture around us is always seeking ways to drag people down. Gossip and talking badly about others is a normal thing. But in church, we are to be builders.
This is why we all need our close friends and brothers around us to encourage us when we are feeling down. Jesus had 12 disciples but within the 12, he had 3 closest disciples that he leaned on – Peter, James and John – Mt of Transfiguration and Garden of Gethsemene.